Luxury brand Audi finds first home in Modesto, readies state-of-the-art dealership
A brand new luxury has rolled into Modesto.
For the first time, the Central Valley city has an Audi dealership. While other high-end imports like Mercedes and Lexus have long had a foothold in the market, Audi hasn't had a full-scale presence here until now. Late last month, Audi Modesto opened its sales and service operations at the corner of McHenry and Pelandale avenues.
Work on the main sales building and landscaping is still being completed, but the new dealership is open and ready to sell you a new or Audi certified pre-owned car. General Manager Mitchell Kudler said Modesto-area Audi owners have already been coming in each day to have their cars worked on or look at new options. The dealership has a 14,000-square-foot sales and service building up front and separate 15,000-square-foot service bay building out back.
The car dealership is also the first foray into California for the Las Vegas-based Findlay Auto Group, which owns some 35 dealerships across the Western states ranging from Acura to Cadillac, Chevrolet to Honda, and Jaguar to Lamborghini. Kudler said the family-owned company was interested in Modesto as its first Golden State location because of the city's family focus and growth over the last decade.
"The Modesto market is a great starting point for us. It's such a family oriented community and we wanted to build around that," Kudler said.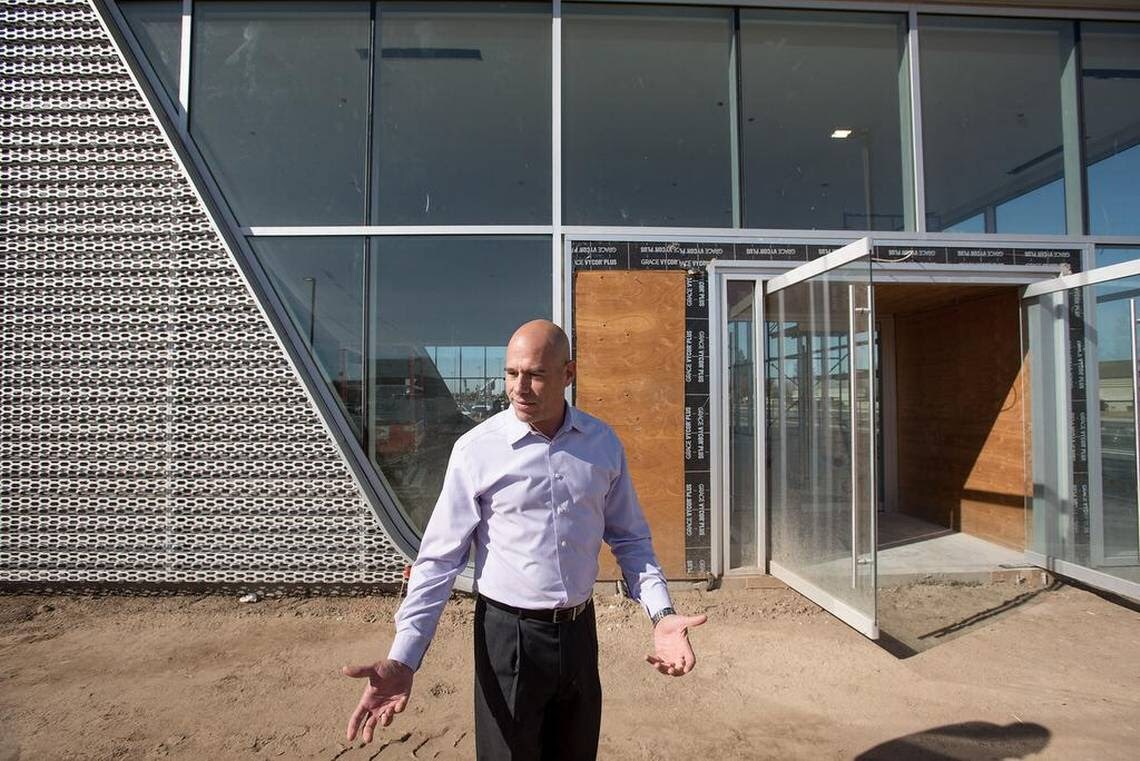 General Manager Mitchell Kudler stands outside what will be the showroom at the Audi dealership in Modesto, Calif., on Wednesday, Oct. 31, 2018.
New cars rolled onto the lot about two weeks ago, and the service department opened a little more than a week ago. The 11-acre site, which sat vacant behind the north McHenry Hope Chest Thrift Store before, still has a lot of heavy equipment and crews busy at work. Construction is expected to be completed in about three weeks.
But if you pardon the dust, you can see the beginnings of a state-of-the-art dealership complete with the signature Audi aluminum mesh facade cladding the outside of its showroom.
Kudler said more than half a dozen cars have been in the shop each day since it debuted, and he expects that to ramp up to about two dozen by the time construction is completed. More than 60 new cars sit on the lot now, but that will swell to about 200 featuring Audi's full line from its entry-level A3 sedans to its high-performance sports car R8 and upcoming fully electric SUV the E-Tron.
As with any luxury brand, the pricing follows. Cars on the lot will range from the high $30,000s for A3s to upwards of $200,000 for the racing R8s.
"We appeal to a lot of different markets," Kudler said.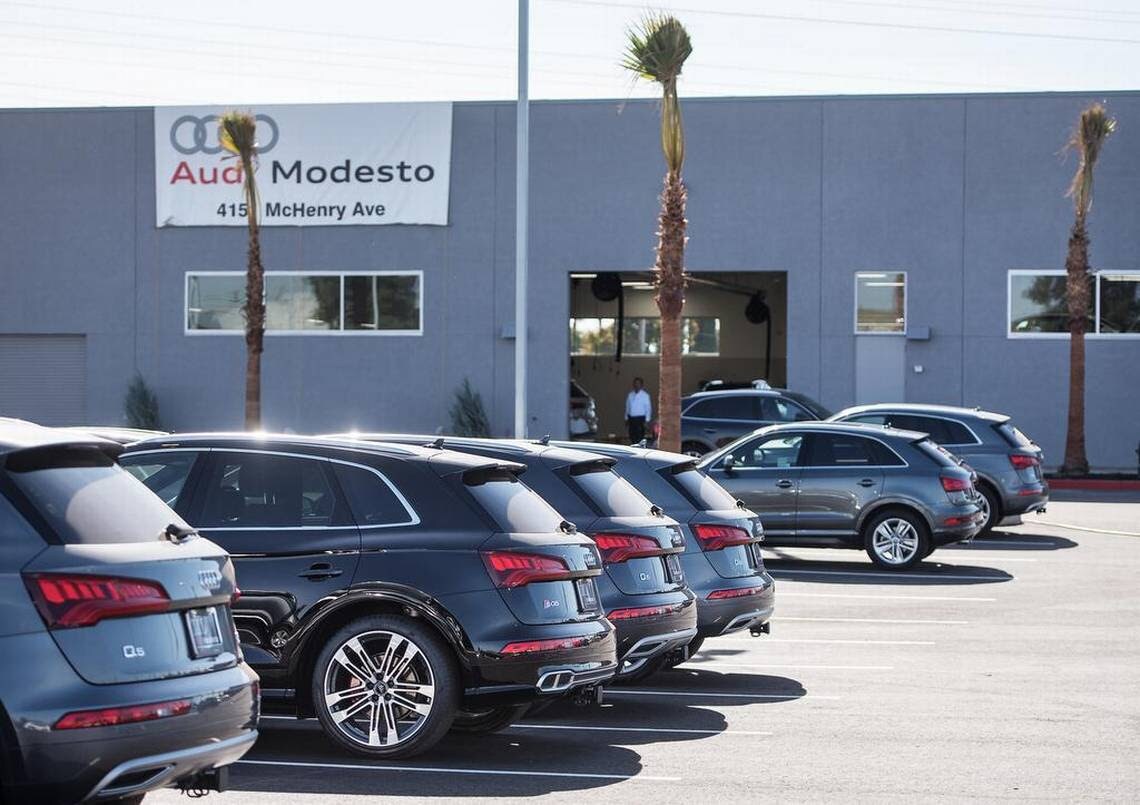 Service center at the Audi dealership on McHenry Avenue in Modesto, Calif., on Wednesday, Oct. 31, 2018.
The new dealership has opened with 24 employees, who Kudler is proud to say live mostly in the Modesto and Manteca area. Before Audi Modesto opened, the closest dealership was in Elk Grove.
"I've talked to so many people who told me, 'You've saved me so much time. I used to have to go to Elk Grove. Or I used to have to take a whole weekend to look at cars'."
Once fully operational, the new dealership will attempt to be as paper-free as possible. Both sales and service will be handled on iPads. But until the main showroom is completed, the whole dealership is working out of the service bay on fold-out tables and chairs. Its more plush office furniture sits nearby still boxed, waiting patiently.
If you're looking to drop by, the only entrance is off of eastbound Pelandale Avenue. But when all the work is finished, there will be another entrance off southbound McHenry Avenue. My advice, for the time being, would be to take Tully Road up to Pelandale if you want to take a peek.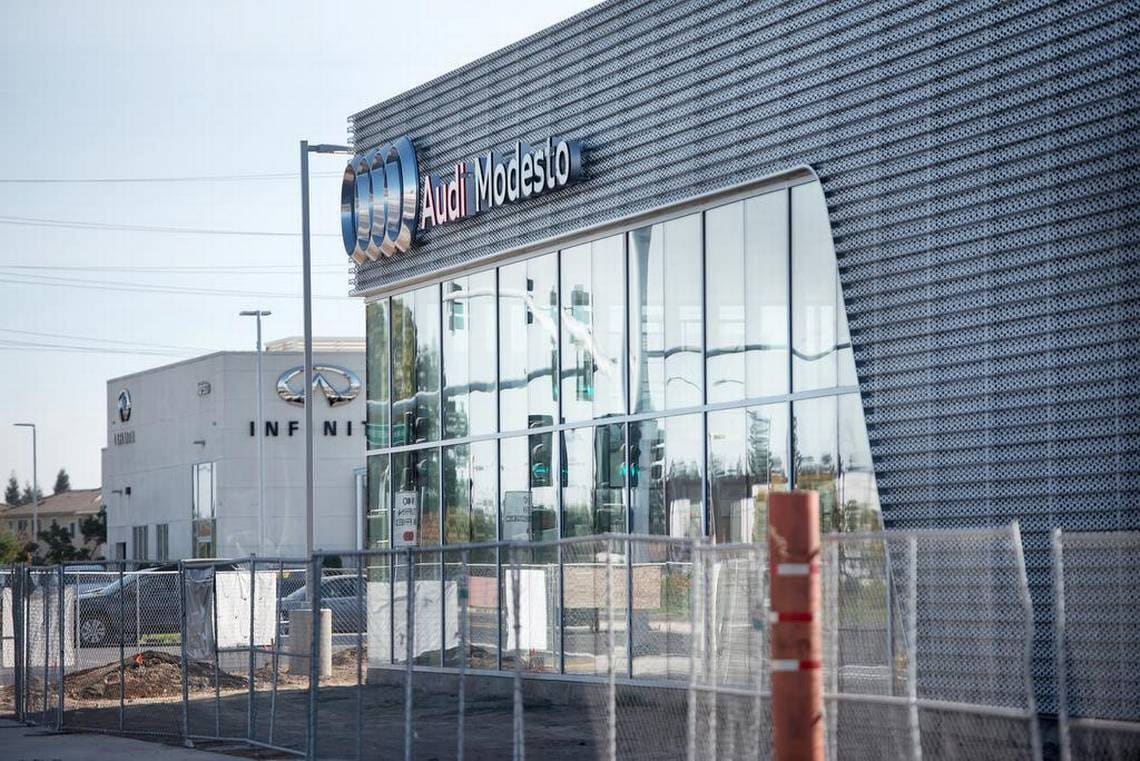 Audi dealership on McHenry Avenue in Modesto, Calif., on Wednesday, Oct. 31, 2018.